Industrial Insulated Roller Doors
Our continuous development policy and ongoing design improvements ensure that Turners Roller Doors are manufactured to match the highest standards of roller shutter construction.
The innovative, eye-catching design makes Turners Roller Doors the ideal solution for any modern building environment, whether industrial, commercial, retail or domestic. With a wide range of uses throughout most applications the high quality and compact nature of the shutters make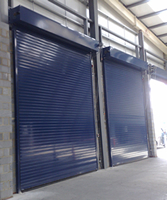 Turners Roller Doors the first choice for any door or shutter requirements
All of Turners Roller Doors meet today's architectural demands for aesthetics, reliability, performance and safety in use not forgetting compliance. All of our industrial insulated roller doors are filled with the very latest energy saving polyurethane foam infill ensuring that our doors minimise energy waste.
Side guides incorporate twin vertical brushes to the outer face of the guide channel and are complete with a PVC medium impact strength plastic to the inner face, a specially designed aluminium extruded bottom section protects the ground contact area.
Our industrial insulated roller doors are custom made to fit any opening and are available in galvanised steel finish or polyester powder coated in a range of complimentary colours to suit all modern building architecture.
Operation:
Manual operation by means of continuous galvanised haul chain, through single or double reduction gearing.

Electrical operation is by means of a high quality, 3 phase motor and gearbox, incorporating 6 integral limits. All controls are low voltage and have open, close and emergency stop buttons as standard. Emergency manual override is provided as standard, to allow operation of the door in case of power failure.
Get a FREE no obligation quote just call 0845 5437141 or click here
Power Operation GFA Safedrive Operator Benefits:
Low maintenance
Built in safety brake
Direct drive to roller axle
Motor controls built-on
Proven in millions of worldwide installations
Conforms to EC Regulations
Manual over-ride via low level chain