Shop Front Shutters:
With the growing rate of vandalism and burglaries, many retail businesses suffer a substantial burden.
Turners Roller Shutters offer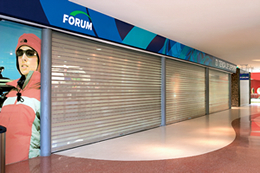 a more effective protection, balancing the demands of security and stylish appearance.
A full range is available: galvanised steel, galvanised perforated steel, aluminium punched slotted.
Each type of door offers a high level of security for your premises. All shop frontage shutters can be powder coated in our extensive range of colour finishes.
Common modes of operation are manual lift or electric, using a high-security key switch.
Electric roller shutter doors can also be operated by remote control.
All our doors, gates and window bars are fully compliant to BS EN 1324 1-1 (Industrial, Commercial, Garage Doors and Gates:-Product Standard) and CE Marked against the Construction Products Directive and also the Machinery Directive, a mandatory requirement in the UK.

Get a FREE no obligation quote just call 0845 5437141 or click here
Benefits:
Perforated vision security shutter offering effective protection with stylish appearance.
Custom built for all retail businesses.
Strong effective protection for shop front coverage.
Powder coated finish, optional colours are available.